How Can You Build a Distinguished Career in Science? find out now!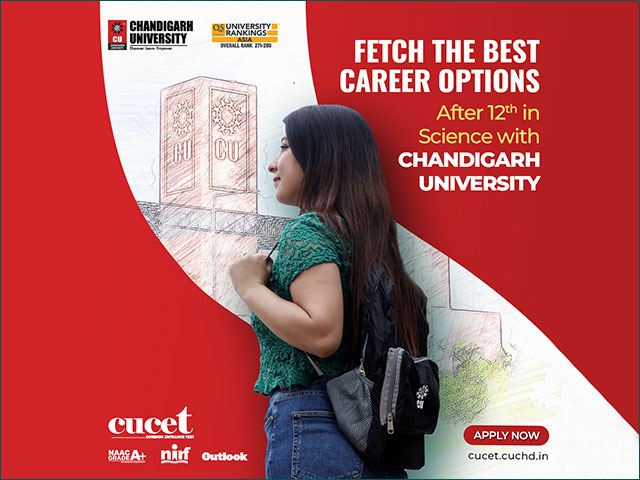 What to do after class 12 This is one of the most common questions that pop up in the minds of students after board exams. And it should be, because selecting a career option after 12th class exam is a nerve-racking task.
From choosing the right course to choosing the right college, students remain more confused about making the right decision regarding their career. On the other hand, choosing the right career path as per your interest can help you build a bright, successful and prosperous future. The right career choice can be the one that allows you to enjoy your profession without any hassle or pressure.
If you too want to pursue a career in science, you need not be overwhelmed! In this post, we will guide you in finding the right career option for you, addressing all your queries related to professions in science. Also, in this post, you will get to know about the career options in science that you can pursue after completing your 12th board exams. So let's begin;
What is science stream?
Before we look at the career options for science students, it is important to understand that Science stream Everything is there?
Generally, science stream is selected by the students who want to make their career in medical or non-medical or technical professions. Science is a combination of subjects which helps you to make scientific study of related streams like Physics, Chemistry, Biology, Computer Science and Mathematics.
In addition, these subjects are studied in order to assess and understand the elements and fundamentals of scientific theories and practical concepts with an analytical approach. Also, students who have completed their 12th class from medical or non-medical stream can start their career in medical science, engineering, biochemistry, genetics, pharmaceuticals, forensic science or other interdisciplinary career options.
future scope of science stream
Depending on the discipline they study, students can become engineers, scientists, lawyers, government employees, pilots, pharmacists, architects, lawyers, teachers, managers, designers, computer specialists and many more.
Career options after 12th PCBM (Physics, Chemistry, Biology and Mathematics)
Students interested in biology have many career options to explore. To make a career in the medical domain, students need to study Physics, Chemistry and Biology (PCB) in class 11 and class 12. Following are some of the career options that medical and non-medical field students can pursue with PCMB subject options. Consider:
Bachelor of Pharmacy
Students interested in pursuing a career in the pharmaceutical sector or wanting to lay their own pharmacy foundation can go ahead Bachelor of Pharmacy Program. As part of this course, students will get to study chemistry and medical salts. This four-year undergraduate program will be concerned with the study of methods and processes for the preparation of drugs. Another important aspect that you will study is how medicine and drugs are distributed. Therefore, studying chemistry and medicine is something you enjoy, you can indulge in Bachelor of Pharmacy Program.
Bachelor of Science (Hons.) (Medical Lab Technology)
BSc (MLT), also known as . also known as Bachelor of Science in Medical Lab TechnologyIt is a four-year undergraduate degree program that provides practical and theoretical knowledge of the diagnosis, treatment and prevention of a variety of diseases with the help of a clinical examination.
Bachelor of Nursing (BSc in Nursing)
Bachelor of Nursing (BSc in Nursing) is a four-year undergraduate course focused on developing critical care, advanced thinking skills, proficiency and values ​​necessary for the practice of professional nursing and midwifery.
Bachelor of Science (Biotechnology)
BSc in BiotechnologyBachelor of Science (Biotechnology), known as Bachelor of Science (Biotechnology), is a three-year undergraduate course that deals with the study of cellular and biomolecular processes. In addition, the curriculum focuses on theoretical classes and practical training in the areas of organic chemistryMicrobiology, molecular biology, analytical techniques and bioinformatics.
Bachelor of Engineering (Food Technology)
Bachelor of Engineering (Food Technology) It is a four-year undergraduate course that focuses on the engineering of food and related technologies that help ensure the quality of food, its management, storage, preservation, and more.
Bachelor of Engineering (Civil Engineering)
Bachelor of Engineering (Civil Engineering) is a four-year undergraduate course that deals with the study of the design, construction and maintenance of the physical and naturally built environment including public works such as roads, bridges, canals, dams, airports, sewage. systems, pipelines, structural components of buildings, and railways.
Bachelor of Engineering (Computer Science & Engineering)
Bachelor of Engineering (Computer Science and Engineering) is a four-year undergraduate course that deals with the study of subjects related to computation, programming languages, program design, computer hardware and software and integrates several areas of computer science.
conclusion
In addition to the courses mentioned above, there are many other emerging course options and topics in Science including AI, ML and Blockchain that you can explore as per your interest.
When it comes to building a promising career in science, choosing the right college is equally as important as choosing the right career and course option. So, if you are interested and looking for one of the best colleges to make a bright future and bankable academic career in science stream, we highly recommend you to join. Chandigarh University, It is a NAAC A+ and QS ranked university that offers a wide variety of courses in science and allied fields.
In addition, it also provides practical training and learning opportunities to its students backed by reliable placement infrastructure that enables them to pursue their . Apart from this, the university is also renowned for its high quality higher education, premium infrastructure, first class teaching faculty and other highly academic KPIs. You may visit the official website of Chandigarh University to get more details about Science courses.
Youtube Links:
https://www.youtube.com/watch?v=mj1sjo6b6qo
https://www.youtube.com/watch?v=EuZGA1E9xzE
Note: Article is written by Brand Desk.
( डाउनलोड करे Govt Jobs App )
Download Our Android App  – Download Latest Govt Jobs App
Subscribe to Our YouTube, Instagram and Twitter – Twitter, Youtube and Instagram.
Join Our Telegram Group for Instant Job and Study Information Daily Update
>>>
Join Our Telegram Group and Download Our App
---
DISCLAIMER: GovtJobsWorld.Com does not have any connection with the Government and it does not represent any Government entity. No claim is made about the accuracy or validity of the content on this site, or its suitability for any specific purpose whatsoever whether express or implied. Since all readers who access any information on this web site are doing so voluntarily, and of their own accord, any outcome (decision or claim) of such access. All the Readers please also check details on the Original website before taking any decision. Here we are not responsible for any Inadvertent Error that may have crept in the information being published in this Website and for any loss to anybody or anything caused by any Shortcoming, Defect or Inaccuracy of the Information on this Application.
---